The new Church of Scientology and Community Centre in South Dublin is dedicated to offering Scientology-sponsored programs and providing a central hub for local activities and events for the strengthening of communities across Dublin and all of Ireland.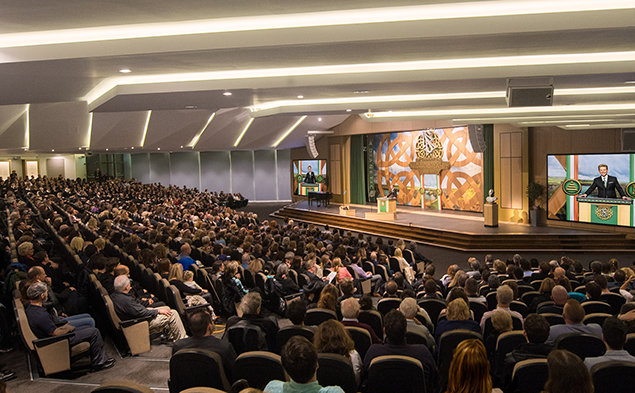 On an October 2017 day that threatened foul weather in advance of the nation's first hurricane in six decades, the clouds parted for the sun to kiss the glorious glass entrance at the grand opening of the new Church of Scientology and Community Centre in Dublin.
As children played on the hills just outside the front door, the opening ribbon was cut and more than 1,200 supporters and locals entered the Church and Community Centre and filled its Grand Auditorium to celebrate the Irish language and heritage, with traditional music and dancing, and with local officials praising the promise the facility holds for the local community.
"Today," said Mr. Miscavige, who officiated at the dedication ceremony, "we make good on a pledge to honor a land our Founder L. Ron Hubbard so loved, and a people he described as wonderfully warm—even if the weather is occasionally not. And if that doesn't say it, then allow me to quote from your own Mr. Yeats: 'Many times Man lives and dies between his two eternities … And ancient Ireland knew it all.'"
The gifts of that knowledge, Mr. Miscavige noted, were given to the world with a graciousness that is reflected in the spirit of cooperation and community service that the new Church and Community Centre represents.
The facility is dedicated to offering Scientology-sponsored programs and providing a central hub for local activities and events for the strengthening of communities across Dublin and all of Ireland. Mr. Miscavige said, "Ireland will find their goals are remarkably closer, now that they're teamed with this Church of Scientology and Community Centre Dublin."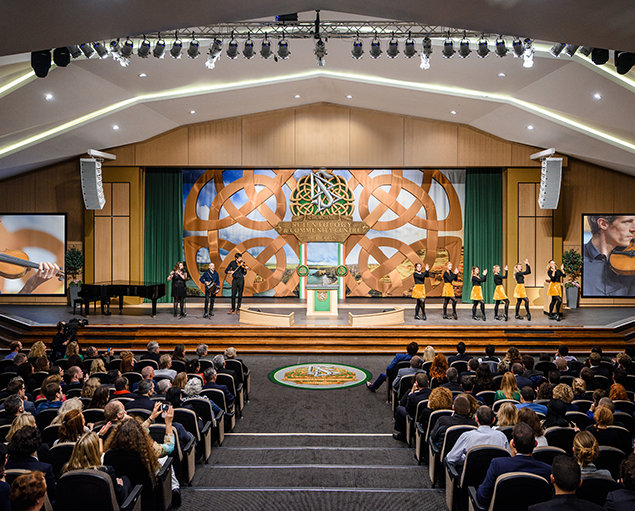 Dublin was founded nearly 1,200 years ago as an outpost, a small Irish village of craftsmen living a near-pauper's existence. Over the centuries that followed, Dublin was almost destroyed more than once, from war, fire and famine. Yet each time, the pride of her people showed as the city rebuilt, again and again. Dublin and her people persevered—with good humor, storytelling and determination—a spirit that is alive today.
That spirit was evident in a dedication ceremony that came on that rich October afternoon, 12 months to the day since the Church inaugurated its National Affairs Office in Dublin's iconic Merrion Square. In those months, humanitarian initiatives through the National Affairs Office have reached hundreds of thousands of students, teachers and everyday citizens with drug prevention, literacy, human rights and youth activities. The new Church and Community Centre will expand those activities.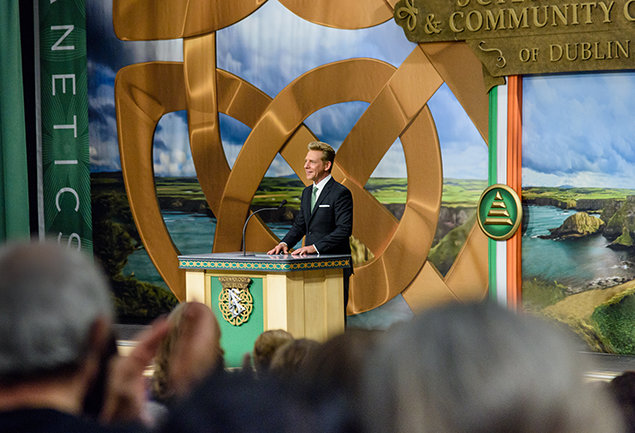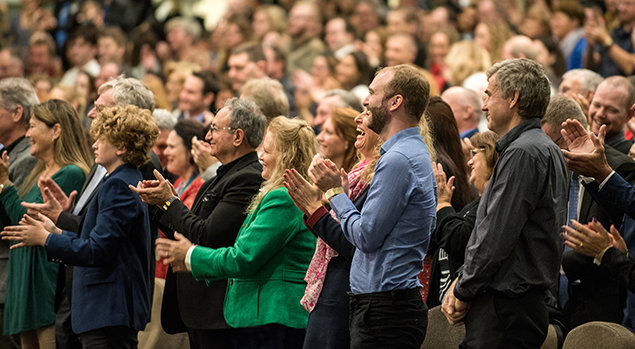 The establishment of a new Church is the latest development in a long history for the Church in Dublin, dating to when Mr. Hubbard developed the Personal Efficiency Course, a program designed to enable anyone to operate more effectively in life. He developed those technologies in 1956 in an office on Merrion Square, just doors from the historic home of Irish author, playwright and poet Oscar Wilde.
Nicola Keating, a Tallaght anti-drug activist with 20 years of front-line experience dealing with the scourge of drug abuse and addiction on the streets of Dublin, told the crowd that she considers the Church-sponsored Truth About Drugs campaign a vital necessity.
"Ireland is a beautiful country," she said. "But unfortunately, we are suffering from a drug epidemic. Fifty-four percent of our population is using substances abusively and those addicted wander the streets and gutters of Dublin as forgotten souls.
"But, your Drug-Free World program is straight-talking and speaks to everyone. You've reached out your hand to addicts, the homeless, at-risk youth, immigrant families and Irish people of every background. In fact, nothing more need be said when you've already given over 500,000 people of Ireland the Truth About Drugs."
Philip Cummings, Irish author, poet and linguist, spoke of the Church's determination to bring L. Ron Hubbard's philosophies and insights to Ireland—translated into its native language—and how that has already shown respect for the nation's culture and history: "For the Irish language itself, by your dedication to this project and the opportunity you provided for a whole team of translators to work on material that will actually be read, you are doing so very much, and in practical ways, to promote and encourage the use of Irish.
"Pádraig Pearse, one of our foremost political leaders and poets, coined this phrase: Tír gan teanga, tír gan anam. 'A country without a language, is a country without a soul.' So, though you may not be aware of it, and while that may not have been your only intention, what you have achieved today is, actually and practically, helping to keep alive the soul of Ireland."
The expansion of the Scientology religion in Ireland was a long-held goal of Mr. Hubbard, finally realized under the guidance of Mr. Miscavige. He reflected on that at the opening.
"To Ireland eternal, Ireland transcendent," he said. "You kept literature alive for 500 years. You built America, and possibly even discovered it. You taught Mankind equality and how to live with dignity in the absence thereof. And, you taught us there is no commodity so precious as beauty, for which you stand. All of which is why we're proud to stand by you, as we open this new Church of Scientology and Community Centre of Dublin."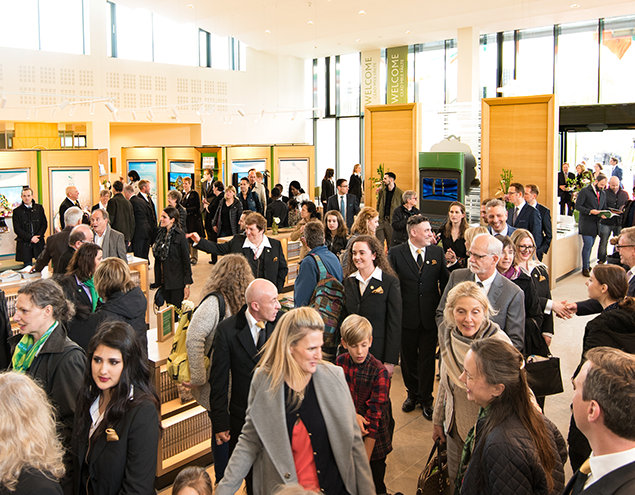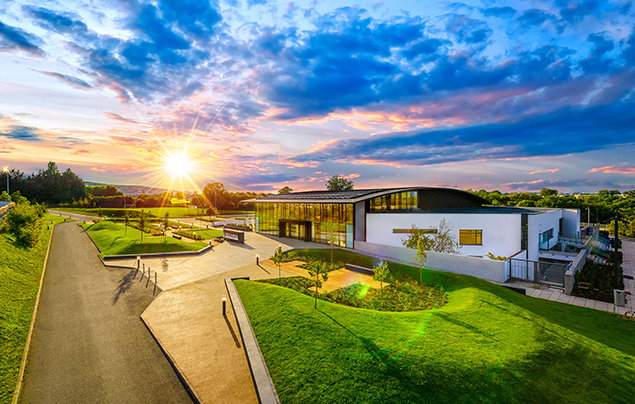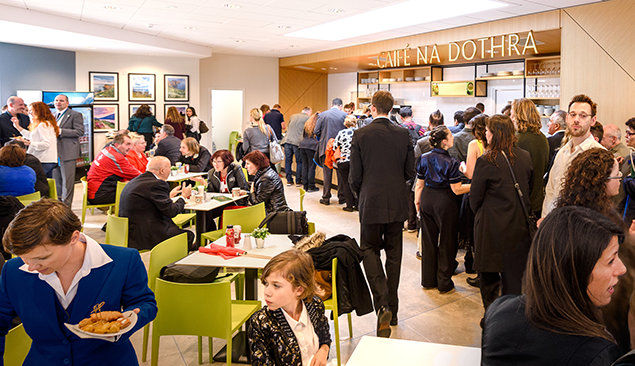 ---
Irish Welcome
Local dignitaries honor the fellowship and spirit of the occasion in welcoming Scientology to Dublin.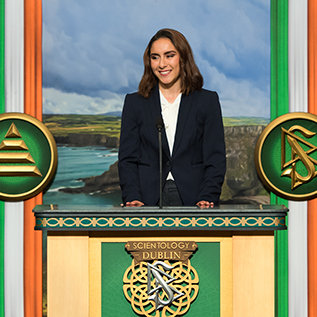 Upholding Ireland's Legacy in Human Rights
"There is a deep well of human rights history on this island. In 697 AD, a law protecting noncombatants in war was passed here. It was called the Law of Innocents. It is regarded by many as the first act of human rights legislation in Man's history. My history, however, doesn't go back quite so far. But I consider it my duty and honor to uphold Ireland's long legacy in human rights. Which brings me to today, because in you I see loyal partners to make human rights, again, at the forefront of our nation's conscience! Each boy and girl in our 'Count Us In' education program receives their own copy of your human rights booklets in combination with our Anti-Bullying Workshop. In fact, 48 of our volunteers are using the program, from Cork to Limerick, and Galway to Dublin. With educator kits under their arms, they are delivering seminars and lectures and leaving seeds of human rights behind wherever they go. And with nearly 3,000 students graduating the program, we're building a burgeoning human rights army. If every kid in this country had a booklet in their drawer teaching them their rights, we would see and feel the change. You are bringing human rights to the homes and dinner tables of Ireland."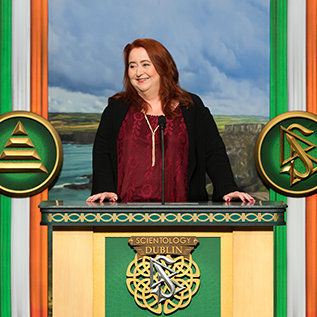 A Changemaker in this Battle Against Drugs
"Ireland is a beautiful country, but unfortunately we are suffering from a drug epidemic. Fifty-four percent of our population is using substances abusively and those addicted wander the streets and gutters of Dublin as forgotten souls. But I believe there's a changemaker in this battle against drugs—and that is the Foundation for a Drug-Free World! Your Drug-Free World program is straight-talking and speaks to everyone. You've reached out your hand to addicts, the homeless, at-risk youth, immigrant families and Irish people of every background. In fact, nothing more need be said when you've already given over 500,000 people of Ireland the Truth About Drugs. So for the first time in a long time we have the education we need, and in the Church of Scientology we have a team to back it up. And that means lives rewritten across the community of South Dublin!"
"What you have achieved today is, actually and practically, helping to keep alive the soul of Ireland."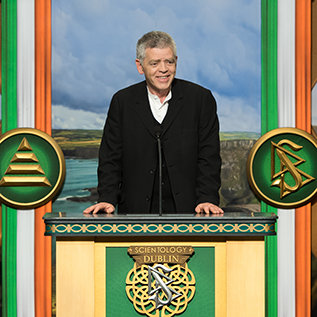 Helping to Keep Alive the Soul of Ireland
"When I first heard of your commitment to render your Founder's works into Irish, I was impressed by the scope and the detail of the work. Your translation project is very significant, both for the Church of Scientology and for the language itself. It is an outward sign of your commitment to the success of your Ireland endeavor. It's a clear message from the Church: 'We understand this island, and we are here to stay.' And you are definitely welcome! For the Irish language itself, by your dedication to this project and the opportunity you provided for a whole team of translators to work on material that will actually be read, you are doing so very much, and in practical ways, to promote and encourage the use of Irish. Pádraig Pearse, one of our foremost political leaders and poets, coined this phrase: Tír gan teanga, tír gan anam. 'A country without a language, is a country without a soul.' So, though you may not be aware of it, and while that may not have been your only intention, what you have achieved today is, actually and practically, helping to keep alive the soul of Ireland."